Measure Pendulum Swing
When the pendulum movement is installed in a case, you must allow sufficient clearance to prevent the pendulum bob from hitting the sides of the clock case (A). Allow an additional 1/2" on both sides for clearance. The movement must hang perfectly straight in order for the pendulum to operate properly.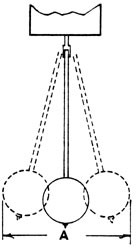 Measure Pendulum Length
Pendulum lengths (A) are measured from the center of the hand shaft (B) on the movement to the tip of the pendulum bob (C).
Note: The pendulum rod itself will be shorter than the measurement from (B) to (C).