What is a barometer?
A barometer is an instrument used to measure air pressure. Air pressure will change during weather changes; this makes a barometer a useful tool for weather forecasting.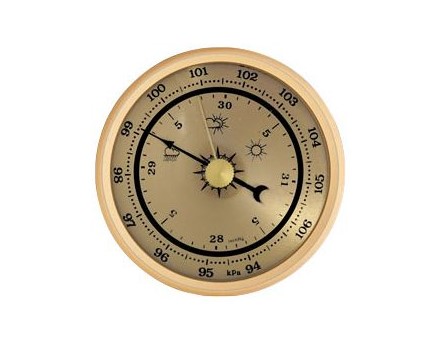 You may see fast, slow, drastic or subtle changes. Here is a list that follows the basic rule of thumb to predict weather conditions from an aneroid barometer.
1. A fast rise in barometric pressure means good weather for a short duration.
2. A rapid drop in barometric pressure means disturbances nearby, showers of short duration.
3. Regular elevation of barometric pressure usually indicates clear, dry weather conditions and cold and dry in the winter.
4. A slow but continuous drop in barometric pressure will indicate persistent bad weather.
5. Drops of 1-2 tenths per hour means disturbances nearby of short duration.
6. Steep drops of 6-10 tenths within a 4-5 hour period indicate coming rain and storms with strong winds.
What if the black indicator hand doesn't move?
Before you deem the barometer defective try a Bag Test.
1. Place the barometer in a plastic bag.
2. Blow into the bag to fill it with air.
3. Hold the top of the bag closed.
4. Press gently on the bag(do not let any air escape) and watch the black indicator hand to see if it moves.
5. Take the barometer out of the bag and follow the setting instructions above the Bag Test does not work then the unit is faulty.