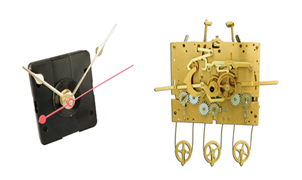 How do you determine which is the best choice? Is there any advantage of one type over the other? Are there any disadvantages that would sway a decision one way or the other?
Quartz-vs-Mechanical
When selecting a clock movement it comes down to factors of personal preference, although aspects of an existing clock case can predetermine movement selection for you. Let's examine some of the key differences between the two in regard to personal preferences.
Price
Price point can certainly be the main factor regarding movement selection. Generally, you will find quartz clock movements to be less expensive than mechanicals. Mechanical clock movements are constructed in a manner that is meant to last.
Quartz movements are primarily constructed from plastic, which allows them to cost considerably less. If price-point dictates selection, quartz may prove to be more enticing.
Maintenance
Mechanical clock movements can be compared to a car. They require maintenance in order to work properly for years to come. Mechanical movements must be oiled every one to three years. They must be cleaned and oiled every three to five years.
There are books that can help to guide you through doing this, or you can seek out a qualified professional. If you are not prepared to maintain a movement for years to come, a quartz movement may prove to be the better option.
Longevity
The lifespan of a quartz clock movement is much lower than those of mechanical movements. Mechanical movements can last well beyond the time span of the clock-maker himself, to be passed along to another generation. There are mechanical clock movements from the late 1700s that still work and keep accurate time today.
Mechanical clock movement longevity requires maintenance (see above), but will last a lifetime providing it is properly serviced at the appropriate intervals. In regard to aspects of longevity, mechanical movement is the better option.
Sound
While sound only encompasses chiming movements, sound quality is still a personal preference that many look for. Generally, mechanical clock movements feature mechanical chime hammers which physically strike tuned chime rods of various lengths. The resulting vibrations produce certain notes depending on the length of the chime rod. Furthermore, the wood case assembly will serve as an amplifier of sorts for those vibrations. This creates a rich, deep chime that is audible in even the largest of rooms.
Quartz clock movements have an electronic chime recording, which is typically amplified by a built-in (or remote mount) speaker. Inexpensive quartz chiming movement's chime quality has improved for most quartz movements in recent years. Certain clock case designs can actually muffle the quartz movement speaker, inhibiting volume. Sound quality aside, the best volume will typically come from a mechanical style movement in a wood clock case assembly.
Precision
Many assume that works of a mechanical nature would be more precise than a quartz clock movement. Others might argue that quartz is more precise. Actually, neither is necessarily true. Both movement options can prove to be equally as accurate. The main difference is that mechanical movement accuracy is adjusted by us, and therefore only as accurate as we adjust it to be.
That being said, you can always continue to "fine-tune" a mechanical. A quartz movement will always be as accurate as the oscillation rate of the quartz crystal. Understand that this is pretty accurate (less than 1/2 second loss per day if kept at a consistent temperature), however, there is no real way to adjust accuracy beyond this. A slight advantage goes to the mechanical from a precision-adjustment aspect.
Intimidation
Many customers tell me that mechanical clock movements are quite intimidating, as they do look fairly complicated. But the truth is that they are not nearly as complicated as one would think. Similar to a quartz movement, there is no real sub-assembly required. You receive a factory-assembled movement ready for mounting with the provided hardware. Mechanical clock movements include accessories for ease of perfect mounting (in terms of centering the hand shaft and key winds).
Many also feature auto-beat adjustment, which allows you to simply over-swing the pendulum so that the clock can regulate the beat on its own. Fine-tuning adjustments can take time but are relatively easy to perform.
Movement Replacement For Existing Clock Cases
If you are replacing a mechanical clock movement in an existing clock case, the best replacement is usually the same make/model as the movement being removed. Purchasing a different make/model mechanical can require some case modifications and possible replacement of the clock face (not all key-wind hole patterns are the same).
Since quartz movements only require a center hand shaft hole, they will generally require little to no case modifications and the same face can almost always be used.
So Which Is Best For Your Project?
In summary, a mechanical clock movement will typically be more expensive and require periodic maintenance but has the longevity to last years into the future. Quartz clock movements are less expensive, however, they will not last as long. Quartz movements have made some great strides to improve chime sound quality and volume, but chiming mechanicals remains the better of the two. Expect precision with either movement selection, and do not be intimidated by the appearance of a mechanical. Finally, remember that quartz will probably be the simplest option for replacing a movement in an existing case, but might also be the only option unless possible case modifications to accommodate a mechanical are considered.
If you should have additional questions, please contact our U.S.-based support staff by Submitting a Request. If you already have an open ticket with a Support Agent, please reply to the last email.